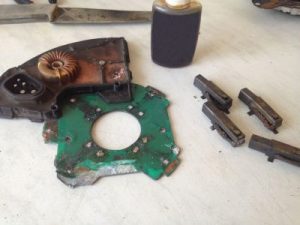 A brief result of work on the repair of a regular fan type ref: 1253.E4 (Peugeot & Сitroen (PSA) from 2002 to 2007).
Many times I was persuaded to install an alternative – a fake instead of its original one – I waited and found a great batch.
There are many advisers and "hungry" traders. I was tired of hearing about the shortage and popularity of this node, as a result of which the price varied from 180 to 350$.
During the search, I made a simple and reliable scheme.
And so the search was successful.
I bought a new board and work began.
Features that are present both in the given and in the original fan control schemes PSA:
Highly reliable microcontroller for use in the automotive industry and designed for temperatures from -40 to + 125°C.
Protection circuits against overcurrent.
The protection circuit against overheating.
The protection circuit against over-voltage and complete discharge of the battery at a lower voltage.
The first sign of death of the fan brain is a significant need for power and voltage to spin the engine. It reached 16V and 25A. As a result, significant heating of the board.
I bought the board without brushes. I soldered mine as donors for the new board. The new ones cost money, but mine were still normal.
I cleaned and painted the fan casing for protection against aggressive environment. It took a lot of effort to solder the brushes to the new board. The power of the soldering iron should be at least 80W – the aluminum substrate is an excellent heat sink, which prevents heating.
Top right is old and rotten. New board is at the bottom. Here's what happened. New fan with your own hands.
Here is a short post and my luck. Thanks to those who appreciated.
P.S. Smooth and safe roads to everybody!